About us
More than 25 years of experiences in software for customs, transportation and logistics.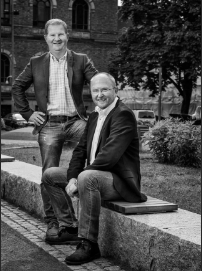 softlogs.net is focusing on developing intelligent systems that catches economic deviations in the freight and logistics area.
This gives our customers better transport economy and full control on transport cost.
Today, deliverers of TMS systems have a great focus on delivery times and punctuality in deleiveries.
We have built a system that analysis the economical part of the logistics chain. In the complex world of freights, it is normally difficult to catch the main factors, and the elements that should be highlighted. Our solution, which is based on deviations, we can contribute with real business benefits by defining parameters that are important for your activities.
We have invested in enhanced support to succeed in selling our solution. This means that we put in freight agreements for you, and update prices raises on a running scale, to enables us in the event of a deviation to have a constructive and well-argued dialogue with the transporter.
Øistein and Jon-Arild has more than 25 years of experience within transport and logistics. In the beginning of the 90-ths, they participated in the founding of KSD software. Øistein and Jon-Arild choose, after the acquisition of KSD by Descartes during 2013, to deepen even more in solutions for freight negotiations and transport analysis.
Vision
Our goal is to be a natural cooperation partner for companies who whish to get a better transport economy.
We have made transport logistics easy to understand so that transport byers can take right decisions, and performing correct measures in their organisation to enhance profitability.
Since production in many cases has been moved far away from the market, transport cost has become a significant part of the goods price. To succeed, price to market has become a vital competitive factor.
The complex pricing and agreement structure in the transport trade makes it hard for customers, partly to control if a freight price is correct, and partly to find the optimal solution for their logistics.
We offer a tool that on a running basis analysis goods flow and checks that freight costs are correct.
Freight cost is measured and followed up according to regulations advised by the transport buyer himself, and in a way that best suits the company economic controls.
Since tools for invoking goods cost in transportation cost has lacked, we recognise that this has been difficult. Focus in regular TMS systems has been on optimising the load carrier and to accomplish good marking for tracing to ensure that the goods arrives timely at the right place.
With this tool, on your own, we provide your company the ability to simply take control over the logistics economy tied to cost centres and cost carriers, and at every instant see if the freight agreement regulation is optimised.
 Transporteconomy are our core business!